---
Design
4/5
BlackBerry certainly knows how to put its best foot forward; it always has. The Z30 is a beautifully designed smartphone, with an attractive mix of materials merging into a handset that looks and feels like it belongs on the top-shelf.
This isn't a phone that will be sneered at by smartphone snobs, the way the Galaxy S4 has been for Samsung's use of cheap plastics in the phone's construction. Funnily though, the BlackBerry Z30 is also made mostly from plastic, but designed to look like metal and leather. BlackBerry keeps the weight of the Z30 reasonably low, while also making the handset feel solid.
The backplate is removable, giving users access to the 2800mAh battery below, as well as a micro-SIM card slot and a port for a micro-SD removable memory card.
Along the left-hand side of the handset you find a micro-USB port, along with a very handy micro-HDMI port. The latter is a connection we see less and less these days, but is always a welcome inclusion on a smartphone.
Display
4/5
As it is with the handset's plastic construction, BlackBerry's goal with its display on the Z30 is to give the appearance of having the best without incurring the expense of actually having the best. The screen here is a large 5-inch Super AMOLED screen with a 1280 x 720 (720p HD) pixel resolution.
The gamble here is that BlackBerry is banking on you caring more about the size of the screen, and the excellent image an AMOLED panel gives, while not caring too greatly about the number of pixels that make up the same image. Many of its competitors are now using 1920 x 1080 (1080p HD) pixel screens, which is a decent jump up in clarity.
The problem is that this clarity is difficult to perceive on smaller screens. If we were talking about 50-inch TVs, the difference would be more pronounced. On 5-inch smartphone displays, a 720p resolution proves to be adequate every time — as it does here with the Z30.
Compared with the BlackBerry Z10 (released a year earlier), the extra screen real estate you have with the Z30 is very welcome indeed. BlackBerry's BB10 operating system relies on a series of gestures for control of the phone, and these work better with more room for your fingers to swipe about.
Android
We should probably talk about the BlackBerry 10 platform before going into the way this platform deals with Android apps, but we have a sneaking suspicion that many prospective BlackBerry buyers are more interested to know about these apps first.
As you might have heard, BlackBerry released a major software update for all BlackBerry 10 phones recently, with one of the major enhancements being that you can now install Android apps directly onto your BlackBerry phone. Any Android APK file can be installed from your File Manager with the same ease that you might open a PDF or view a JPG photo.
This is a BIG deal for BlackBerry users, and it could prove to be a big deal for BlackBerry itself if users of other phone platforms catch on to just how easy it is to install these apps.
So, is it just like having both an Android phone and a BlackBerry mixed into a single phone? Yes and no. First of all, you can't install the Google Play Store on a BlackBerry, which means you can't carry over old Android purchases to the Z30 — you'll have to start again.
The good news is that there is a couple of Android markets you can install, mostly the Amazon App Store. If you have an account with Amazon, then you are already registered to use the store, so you can get straight into downloading apps straight away.
The other major downside is that you can' install Google Play Services onto a BlackBerry phone, which means you can't use any apps that rely on a connection to your Google account. Google Play Movies, Music and Books are good examples, but also other apps that use Google payment services, like Uber, might also cause you problems.
BlackBerry 10
Android aside, BlackBerry's own platform has come forward by leaps and bounds in the past 12-months. A lot of the recent enhancements are 'catch-up' features that we've seen before in other systems, but together they make a compelling and easy-to-use system which is great for everyday use.
With recent changes, you know get more information than ever on the lock screen of the phone. When you receive a message, you can tap on the name of the sender to see a snippet of the message in your inbox. If you need to act on it, you can touch it again to unlock the phone and be taken directly to the app you need to reply.
BlackBerry has also expanded the notifications panel you see when you swipe down from the top of the screen. This shows you a list of Quick Settings toggles, which you can use to turn key functions, like WiFi, on and off. These settings are customisable too, so you can dictate which toggles you see.
These are examples of new additions which work with the existing BlackBerry 10 OS we saw last when we reviewed the BlackBerry Q10. If you read our previous reviews, you'll know we are big fans of the work BlackBerry had put into the gesture-controlled system, especially of features like 'Peek' and the way the system multi-tasks.
The BlackBerry keyboard is also worth another mention. If you haven't seen it in action, the keyboard works by predicting your next word and placing options above the letters where you fingers are moving to. For example, if you are typing 'BlackBerry' and enter the letters B and L, the word 'BlackBerry' will appear above the letter A. If you see the word you want, you swipe up from the letter and it is automatically entered into your current phrase.
The prediction goes beyond simple canned suggestions and genuinely seems to learn from your personal typing patterns. This means that you find yourself forming complete sentences with a series of flicks, rather than furiously stabbing at the screen.
Camera
3/5
BlackBerry isn't the first name you think of when you consider the best smartphone cameras around, but it has a fairly good track record for producing decent shooters all the same. Even phones back as far as the early BlackBerry Bolds had serviceable cameras for the time.
The 8-megapixel resolution camera in the Z30 is more of the same. It's not the best camera in market, but it takes nice enough photos a majority of the time. The camera is exceptionally easy to use, and has a launch shortcut from the lock screen, which is handy for when you need to take a phone, like, right now.
The automatic white balance is one of the few areas that lets this camera down. Across our test photos we saw the white balance missing slightly in a number of photos, making some shots look too green, and others too blue — depending on the lighting at the time.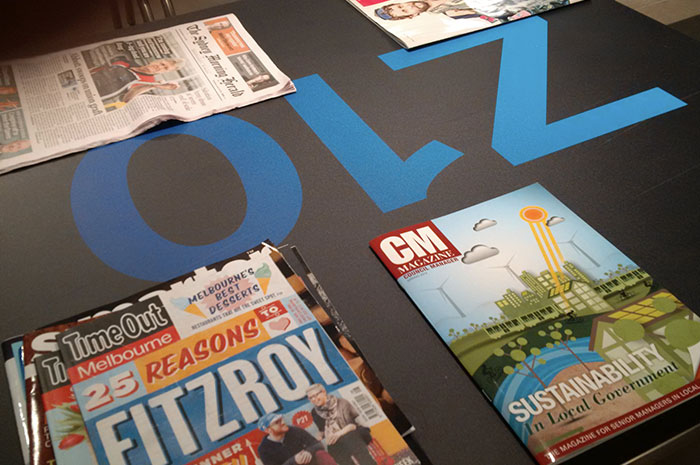 Performance
3.5/5
If you line up the specs of the Z30 beside the top-flight phones from Samsung, HTC and LG, you may wonder whether the dual-core processor in the BlackBerry holds its own next to the quad-core processors in the competition. From our experience, it absolutely does. BlackBerry's system seems to run more efficiently than Android, and so it is unlikely you will be left lagging while moving about the core system or native applications.
If you plan to rely on Android apps, it is a different story, unfortunately. BlackBerry makes a clear disclaimer on the installation screen for Android apps that it does not guarantee the experience for users executing them, and there is a good reason. While Android apps definitely work on the Z30, they are noticeably much slower on this phone than on a comparable Android device.
You can see a good example of this in the review video we have posted above. In it we launch Flipboard (an Android app) and it takes a digital age for the content to load. Like we said, it works, but you do need to exercise some patience.
Battery Life
4/5
One of the main gripes long-standing BlackBerry fans had with the BlackBerry Z10 was that its battery life was less than many felt it needed to be. In our tests, we struggled to get through a regular business day before needing to recharge the Z10.
Happily, it is a completely different story with the Z30. BlackBerry has listened to its fans and now includes a huge 2880mAh capacity battery — up over 50% on the previous model. This delivers at least a day and half of power, though in our standard use, we easily got through to the end of the second day.
Your milage will vary, no doubt; but you should find that the battery in the Z30 is sufficient so that you are never caught short during the day.
Overall
There is a lot to like about the BlackBerry Z30, from its fast, reliable software, to its sharp, sturdy physical design. Though many BlackBerry fans claim to prefer having a physical keyboard, this is definitely the all-touch phone to make their decision that much more difficult.
It is definitely a big step up from the Z10, especially in regards to battery life.
Those hoping for a perfect union between BlackBerry and the Android ecosystem will be disappointed though. While many Android apps run on this phone, all struggle to deliver the same, seamless performance you'd expect from a dedicated Android device. But then, maybe this is enough to get you over the fence to BlackBerry land.
---